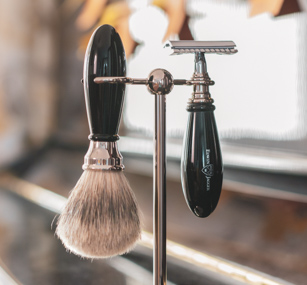 Have you ever feel excited or impatient for shaving?
Gentlemen, what if we tell you now that you will be looking forward to shave, waking up 5 to 10 minutes earlier for a pleasant shave or shaving in the evening just to live it with pleasure? This is most of our members' reality that, shaving became one of the best parts of their day rather than a tasteless ordinary obligation.
Moreover, it is not only a taste for ten minutes; it is an all-day pleasure which makes a man feel much better and motivates him to share his happiness with persons around him. A beautiful shaving set in your bathroom, is not only a touch of aesthetics to your life; but also an obvious increase in health and liveliness of your skin as well as the quality of your shave.
That is why we repeat: "If shaving is not one of the best parts of your day, there must be something wrong with it." Lets convert it to a pleasure!