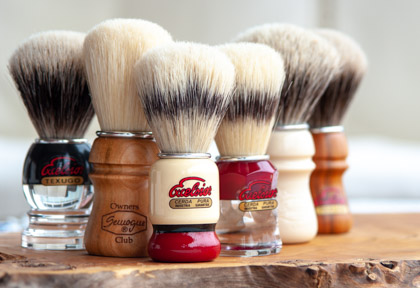 "Which one is the best boar brush?" Regardless whereever and whom ever you ask this question, the answer will probably be same: "Semogue". Established in 1955, Semogue is a family-owned Portugese shaving brush company, which is devoted to produce shaving brushes with traditional methods since generations. Give them a try, and you'll see why those hand-made shave brushes are one of the most beloved ones for the shave-enthusiasts. Those are such brushes which will tie you up to themselves and reward you with greater shaving pleasure once you get tied to them.
Best known with it's boar bristle brushes, Semogue, also produces wonderfully backboned badger brushes, without beeing harsh on the face, thanks to selected silvertip to finest badger hairs.
Even better, they also brought back the legendary mixed brushes in 2018, which combines the features of badger brushes and boar brushes in one shaving brush. The all-rounder "Mistura"!