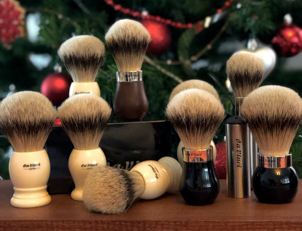 When it comes to shaving brushes, we have always searched for the highest end badger brushes which can meet the high-end quality and luxury expectancies without knocking us down with highest end price tags. We always looked for srong backboned shaving brushes with alive and flexible silvertip badger hairs and also with intense high-quality knots. 
We seeked the brushes that keeps you looking forward to the moment you hold it in your hand and touch your face. It should have been a brush which drives you to "one last extra pass" although you are done with your shave until no more whiskers are left to cut.
We dreamed of such a versatile brush, which would be capable to make face-lathering, bowl-lathering, hand-lathering and even lathering harder soaps.
So we found all these features in German "Da Vinci" shaving brushes...